Whoah! over 2 years since the last blog post! and...... 4 years since To Hull and Back part 1 Don't worry. SNDH is still very much alive. Behind the scenes I've still been ripping and converting tunes to the SNDH format. Current stats for the next release (4.8) are, as of 28th March 2020 (I SNDH'd Honda RVF digital music today!) :- 257 new or updates SNDH files, equating to 451 subtunes. That increases the whole database to : 5118 SNDH files, 10504 tunes by 555 unique composers. Not bad going.... There are still many tunes to rip and SNDH so remember to support the cause, click here for the current list.
As for the release date? Well I'm working on a small intro for the release, much of the coding was done at the elite UK demo party Tathack. I don't like speculative release dates so expect something out within the next decade.
Right! Back to the STNICCC 2015 reportage.
So where were we? Well on the Saturday afternoon after having lunch with Rob Hubbard, Rob Hubbard, yes Rob Hubbard.... we ventured upstairs to our coding room. This was mainly Brit sceners with a smattering of current German aristocracy, notably Paradox (hi Paranoid!) plus Dutchies D-Force and earx and Swedes Baggio and Wiztom.
However things soon moved up a notch when I met Jochen "Mad Max" Hippel in one of the many corridors of the college, where the party was being held. He recognised me straight away, which I kinda found surprising as it was 15 years since we last met at the previous STNICCC. Back in 2000 I'd shown him the party release of UMD 8730, which came third in the demo competition. This was a seriously cut down version compared to the final release, missing the 20 minute intro with Tao's epic medley and the freshness of ST Survivor's graphics. It was an honour at the time to see a legend really showing interest in my work, with a posse of uber coders including Ben of Overlanders and Gunstick on Unlimited Matricks in attendance. In 2000 Jochen gave me a disk with a copy of his editor which I still have to this day, I wonder if it will ever be released publically? Fast forward 15 years and the vista was reproduced, well nearly.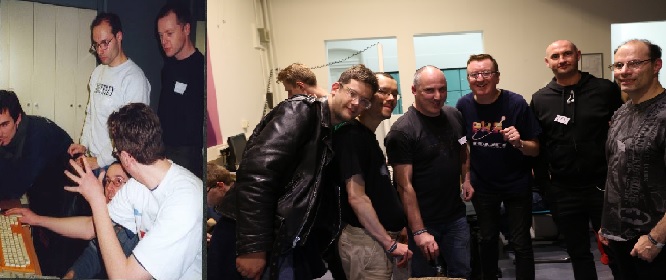 2000: L-R Ben/OVR, Gunstick/ULM, Mad Max/Tex, Grazey/PHF, Stick/Ripped Off
2015: L-R gwEm/PHF, DMA-SC/Sector One, Mad Max/Tex, Grazey/PHF, Lfee, Gunstick/ULM
We've not aged in the slightest! Unfortunately I didn't have my orange STFM with me this time - remember we did cycle all the way from Europoort to Gouda (more of that later) so laptop it was! I soon got Jochen sat down and booted the Steem emulator to load up his TFMX editor. People in the room soon congregated round him as he dabbled in YM chip for the first time in years. It was so nice to see a fusion between the old school pioneers and the new skool kids (well in comparison).
Lots of interesting discussions followed regarding the intricacies of chip composing and new sound effects and techniques which have pushed the 2149 to its limits. Fellow PHF member gwEm was proud to demonstrate his "go to" music application maxYMiser to Mad Max, a flavour of which can be seen in the video below.

YM Sesh! Images showing Soran, Mad Max, Mrs Max, gwEm, DMA-SC, Grazey, Gunstick, Tronic, Strider, Lfee & Baggio.
Right compo time! We all queued patiently and expectantly, wondering what delights were in store...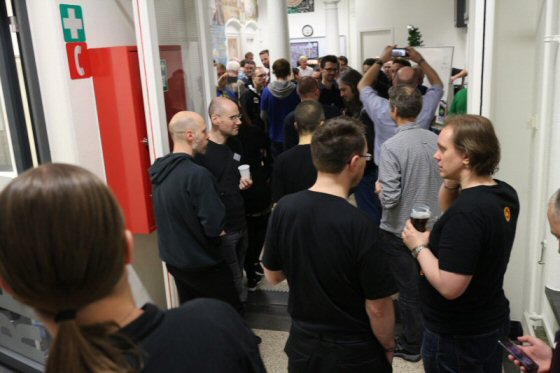 So it's not just the UK who likes to queue?
Once inside, we took our seats and were guided through the competition by our eminent host and organiser Richard Karsmakers and the Outline stalwart Havoc!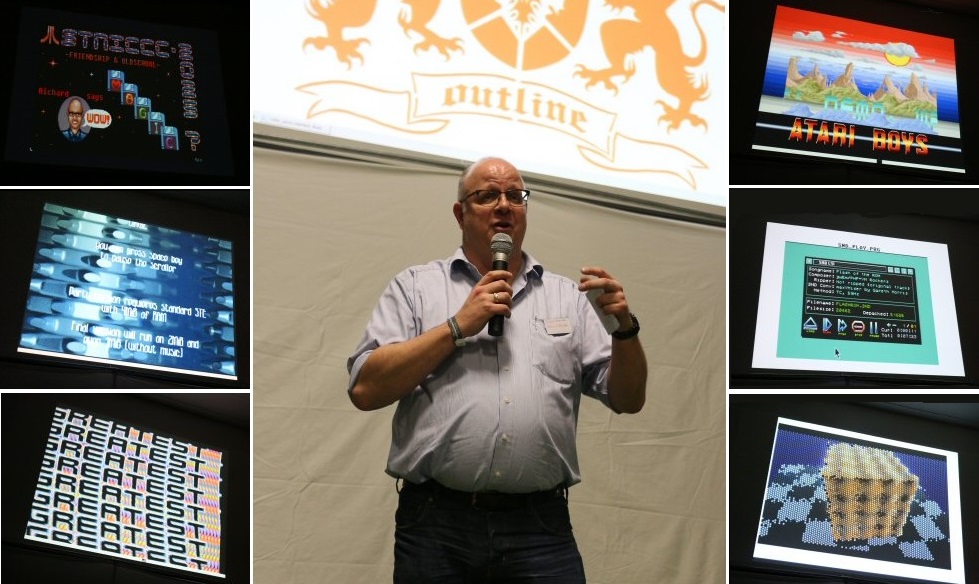 The competition was really well supported considering we were hovering over the twilight of the ST scene. Quality was abound from DML/TPT-XIA's Zero-Three-Zero on the Falcon, the almighty polish of Oxygene's "We were @" (love the physics screen which caused gulps at the time!), Sync's total ownership of overscan and wake states, dbug's mono masterpiece, checkpoint's continued dominance of new school fx plus great contributions by Cream, TSCC, Absence, Effect, MJJ Prod, Oxyron, No Extra, Atari Boys, Hemoroids and FUN. Quite a line up, especially so as we are talking 2015 here!
Deliberations were had, fanta(?) was distributed. Leonard and co made it two in a row, though I still prefer Odd Stuff in 2000 :P But what was pleasing from my point of view was that gwEm/phf won the music competition - even more so as the judges were unknown people with surnames like Van der Laurens, Hippel and Hubbard - what do they know about chip-music?? It all gets hazy from there! I think we left the venue and headed to a late night bar (gwEm, Cal, Lfee, Tronic & Mug UK). We had been there the previous night when the owner had let Tronic connect his phone to the pub's sound system! Even had a sweet IPA induced boogey to Astaroth at 1 in the morning?!
Is that Big Alec I can hear?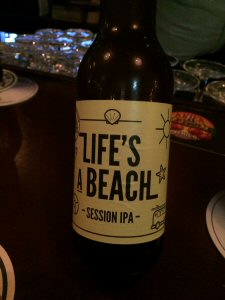 Life's a Beach inducement at Biercafé De Goudse Eend, nearly TLB, nearly!
The following day was the normal good byes, wondering if we really all meet up again in 2032. Me and Cal packed our panniers. I trusted good old google maps to take us back to Europoort. Luckily like where we live in the UK, the Netherlands is very bike friendly, read - flat! I say "trust good old google", yet for some reason it took us to the Hook of Holland side of the channel! Luckily there was a little ferry which crossed to the other side and onwards to our Hull bound ferry!
Somewher between Gouda and Rotterdam?!

Leaving our plush (not) accommodation, heading back to Europoort via the little ferry at Maasdijk